China Hair Straightener Factory: Top 3 Biggest Hair Straightener Factories In China
Hair straighteners from China are favored thanks to its capacity and unique features. China is the biggest exporter of modern hair tools in the world because hair styling products from the China hair straightener factory bring about a significant economic potential for both B2B business and retailers.
1. An overview of hair straightener provided by China hair straightener factory
1.1. What is hair straightener?
A hair straightener is a tool that is used to eliminate curls and waves from the hair, and it may be used in a variety of ways. Straightening irons are manufactured by a number of firms, while chemical hair relaxers are manufactured by others; both irons and chemicals are meant to alter the structure of the hair.
As could be expected, this might harm the hair, thus many hair specialists advocate using specific hair treatments on straightened hair to avoid causing too much damage.
1.2. Use of hair straighteners manufactured by China hair straightener factory?
Main use of a hair straightener: As the definition of the name suggests, China hair straightener factory manufactures products for ironing the hair, eliminating curls and waves from the hair.

Other uses: 
Hair straighteners can also double as curling iron, given some dexterity and plenty of heat-protecting products.

If you're going for the beachy-wave look, your hair straightener can make that happen too.

When applying colorful temporary dyes like hair chalk, straighteners can help to seal in the hue.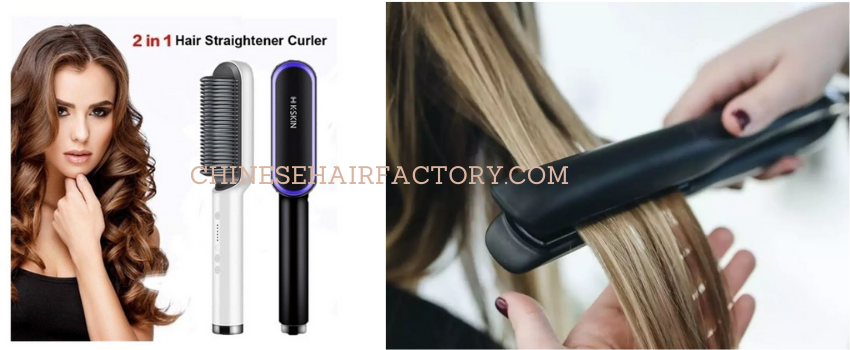 1.3. Who can and can not use hair straighteners? Is hair straightener good for hair?
Anyone can use a hair straightener; however, if correct temperature settings are not utilized in any heat styling devices like a hair straightener, excessive use of heat styling equipment can damage hair by making it dry and frizzy.
However, heat-styling equipment such as flat irons and curling irons are not recommended for use on children, according to health experts.
Hair straighteners use heat and heat does harm to our hair. Therefore, China hair straightener factory recommends not using the hair tool permanently. Instead, give your hair a break and treat it well.
1.4. Do's and don'ts when using hair straighteners? Notes on reducing hair damage after straightening your hair
Our hair begins to dry out and break when it is damaged. That's not all; when they deteriorate, they begin to lift, resulting in frizzy hair. This means you'll have to spend more time straightening your hair to get it to stick straight, and you'll wind up harming it even more.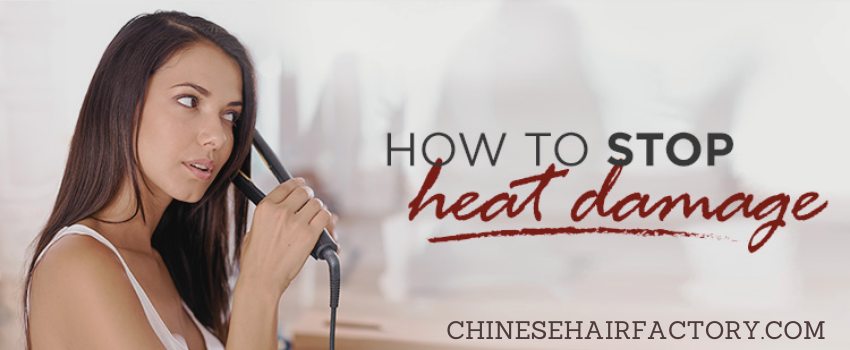 Simply following these guidelines will help to reduce hair damage.
Choose the right hair straightener

Give your hair a sufficient break

Use the correct heat protectant

Straighten hair responsibly

And last but not least, pamper your hair
1.5. China hair straightener factory gives a detailed guideline how to use hair straightener products
How to use hair straighteners?
Many users find it difficult to operate this hair tool safely at home. If you are one of them, here are the detailed step-by-step instructions of using a hair straightener of China hair straightener factory: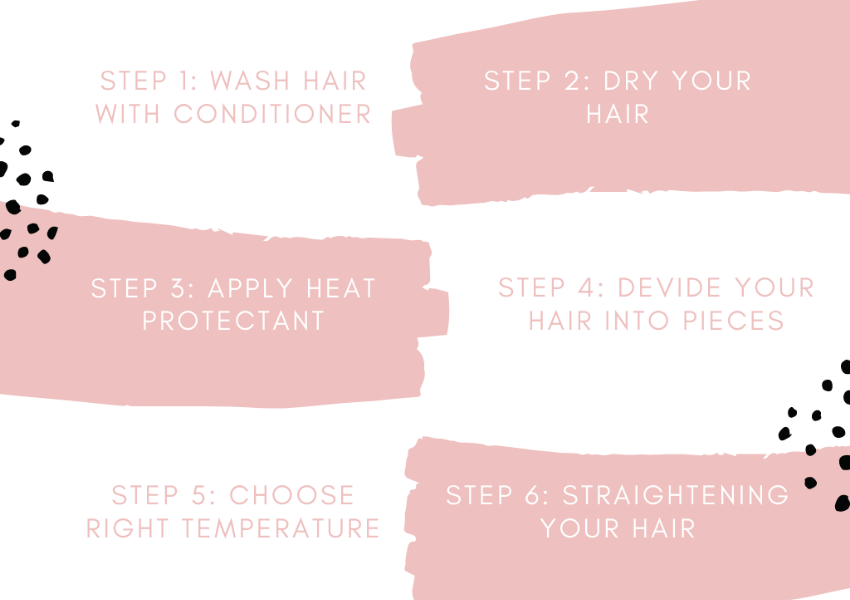 Step 1: Use a good conditioner shampoo to wash your hair. It is an important step that prepares your hair well before processing with heat. After washing, blow-dry it. If your hair is frizzy or thick, use a smoothing and conditioning shampoo. The volumizing products are recommended for thin hair.

Step 2: After you've washed your hair, towel dry it and blow dry it. When drying your hair, start at the roots and work your way to the tips. Detangle and comb your hair thoroughly. This is the initial stage in straightening your hair.

Step 3: The next step is to apply a heat protection spray to your hair to prevent it from heat damage. The serum should not be applied to the roots since it will make the hair oily.

Step 4: Divide your hair into pieces while preparing it for straightening so that you may straighten it equally on all sides.

Step 5: Set the iron to the proper temperature. It is dependent on the hair's length. Directions may be found in the manual

Step 6: Start straightening your hair about one inch from the root. Straighten one piece of hair at a time with a straightening iron. For each part, repeat the procedure.
After those 6 steps, your hair is ready. Enjoy your newly changed appearance in the mirror with your beautiful ironed hair.
1.6. Pros and cons of using hair straighteners from China hair straightener factory
It is undeniable that hair straighteners give you a shiny look and a better appearance. However, regardless of the advantages, there are still some risks of abusal of hair straighteners.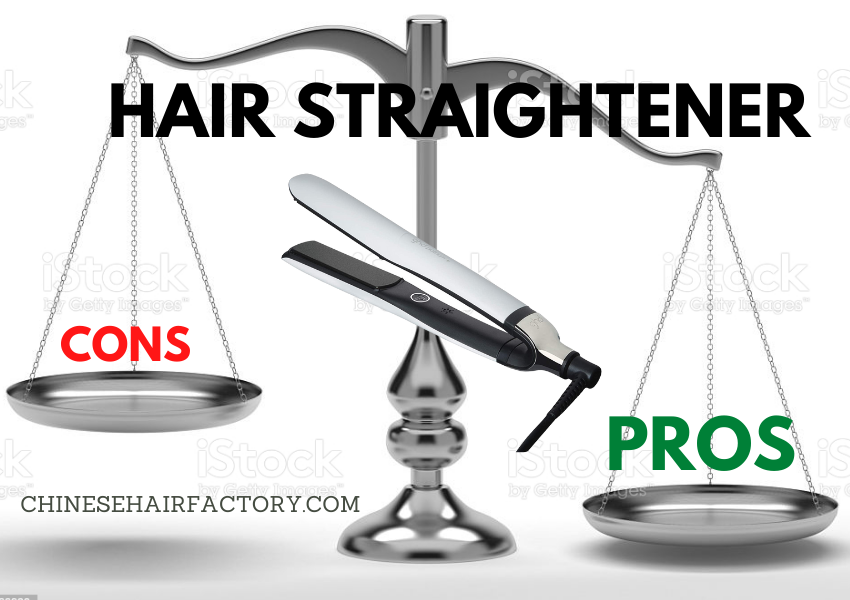 Look at the table of hair straighteners' pros and cons below to consider the decision whether to use it or not.
Pros

Cons

Straightening gives a sleek, shiny, straight and manageable look.

One does not need to iron or blow dry hair every time to make hair look manageable after a straightening.

Permanent straightening gives a long lasting result.

People who have unruly, dull and non- manageable hair, for them doing straightening would be a wise decision as it gets rid of all the above problems giving a totally new look

After straightening once the hair starts to grow after a few months then the difference between new growth and already straightened hair starts to show which looks a little odd.

After doing straightening you are limited to do any other style on hair, specially curls

Hair tends to look quite flat after straightening. You lose the natural bounce of hair.
2. Features of China hair straightener factory
2.1. China hair straightener factory supplies hair straightening products of high quality
2.1.1. China hair straightener factory utilizes advanced technology:
You have definitely seen the economic development of China in recent years. It is due to the advancement of technology that many factories and manufacturers have applied in their manufacturing procedures. 
The majority of China hair straightener factory operate in an area of over 2000 square meters, with divided sample rooms to ensure the quality of the products before being sold in the market. Besides, they also recruit experts in the hair industry to consult for every piece of hair straightener, making sure customers enjoy the best satisfaction when using their products. 
Furthermore, some China hair straightener factory companies also open an exhibition for their products, receiving testers' feedbacks and comments to improve the quality of their products.
Regarding the advancement in technology and the effectiveness of operation, it is not an exaggeration to say that the production line of the China hair straightener factory is considerably efficient.
2.1.2. China hair straightener factory equips their products with state-of-the-art technology: 
Below you'll find a simple explanation of the 3 technologies which are popularly used in hair tools.
1.Ceramic technology: 
When it comes to flat irons,China hair straightener factory says that ceramic plates are always the best option.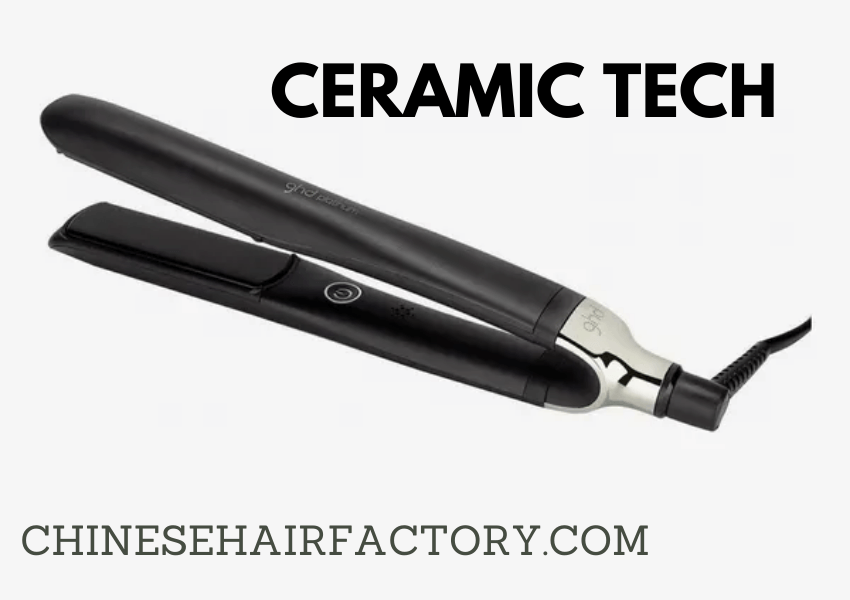 Ceramic, unlike aluminum or even gold-plated plates, slides through hair without pulling or straining, minimizing hair breakage and damage. In addition, ceramic warms up rapidly and evenly, needing fewer iron passes through the hair. Look for irons with ceramic plates rather than simply a coating.
2. Tourmaline technology: 
In China hair straightener factory,  Tourmaline is a boron silicate mineral with a crystal structure that assists in hair smoothing. Negative ions emitted by tourmaline counterbalance the positive ions found in dry or damaged hair. As a consequence, your hair will be smooth and glossy. The tourmaline also prevents frizz by sealing moisture into your hair.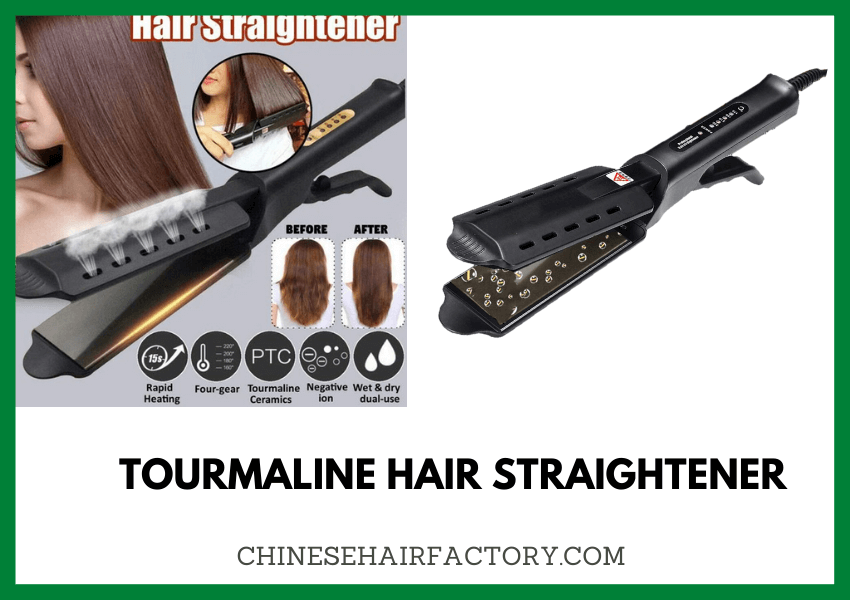 3. Ionic technology:
Suggested by China hair straightener factory, Ionic hair straighteners and hair dryers operate by emitting negative ions, which neutralize the hair atoms and remove static and frizz, resulting in smoother hair. Ionic technology also helps your hair dry faster by causing water molecules to fall out of the hair shaft faster.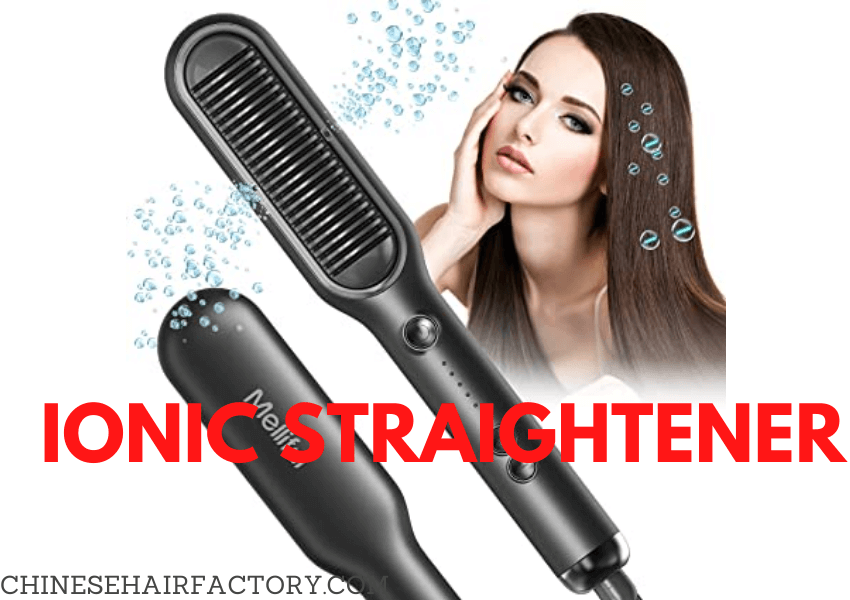 2.2. Hair straighteners of China factory have a reasonable price
China ranks in the top 1 most populated countries in the world, so it is not surprising that the labor force for the China hair straightener factory is not only plentiful but also very cheap. Not to mention that, using large scale production also gives China hair straightener factory an edge when it comes to comparison with factories of other countries. With the huge national area, hair straightener manufacturers in China enjoy a great source of input at a relatively low cost but of high quality.
All of these factors have explained why China hair straightener factory can supply hair straighteners at a competitive price and China is the country that exports the finest hair tool. The exportation volume of this country is also highest in the world.
2.3. Other products of a China hair straightener factory
Apart from hair straighteners, China hair straightener factory will definitely produce other hairdressing tools to make full use of their manufacturing technology. 
These tools including hair curlers, hair dryers, hot air hair brushes… also use the same thermal technology as hair irons, the only difference is in the structure of the machine. For example, if the hair straightener uses a flat iron, the curling iron has a cylindrical heater.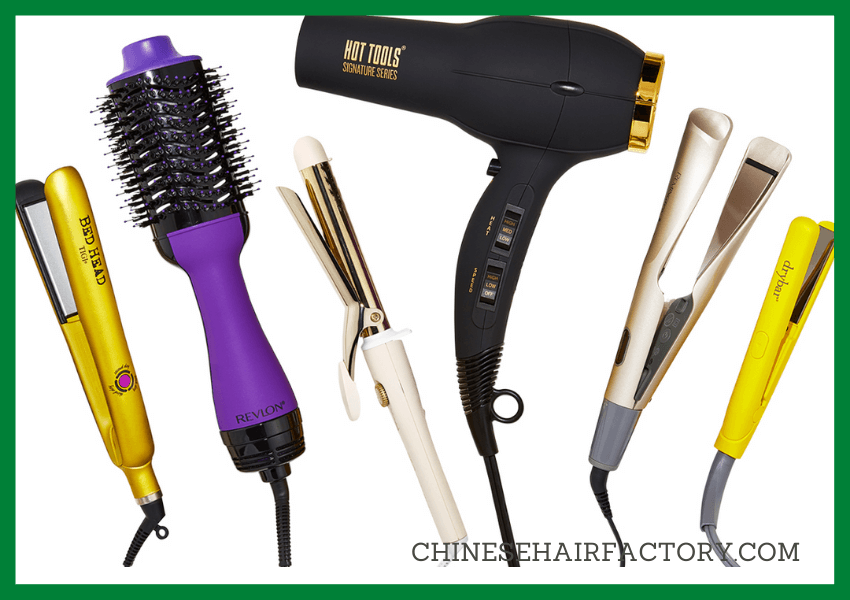 3. Where and how to find the best China hair straightener factory?
Spending a short time researching on Google with the keywords "china hair straightener factory", you will find a number of results ranging from articles to blogs and e-commerce sites. So how to know whether a China hair straightener factory provides finest hair irons or not?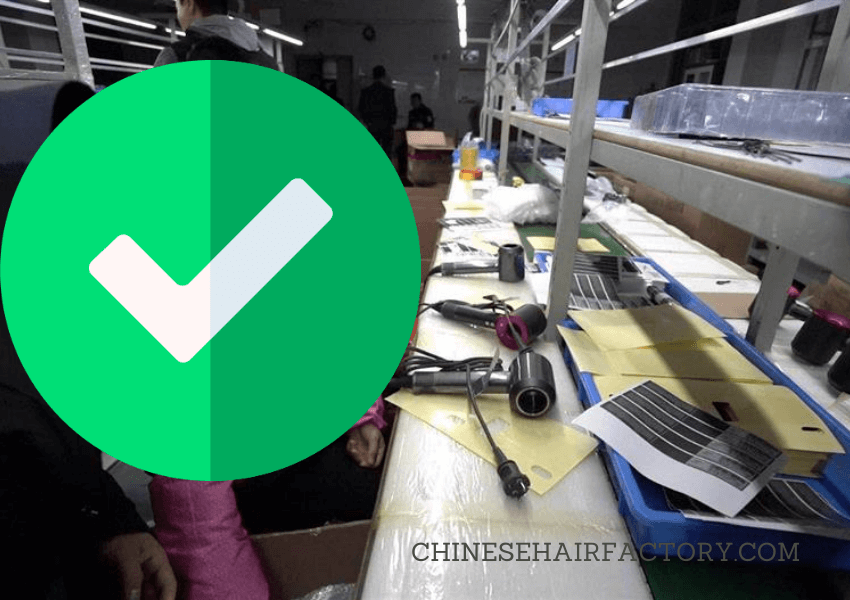 Reliable china hair straightener factory have some factors in common:
1. Manufacturing license:
If the factory can provide you the proof of their professionalism by willingly showing you their relevant products certificates as well as manufacturing license certified by the Ministry of Industry and Trade, they are a reliable china hair straightener factory
2. Good reviews and feedback:
When searching for a china hair straightener factory, remember to look for feedback and reviews of other customers.

A good factory will definitely have a high score and even a good position on the ranking leagues and tables
3. Excellent customer service:
A trustable China hair straightener factory will surely have experts in the hair industry to give customers advice and detailed guidelines on how to use and maintain their products.

If the company you are about to work with can not do it or shows a lack of knowledge about hair and hair tools, THINK AGAIN, they are not the one you are looking for. 

Moreover, a factory that is worth working with should be able to clarify any questions you may have, varying from how to buy their products, how much the hair tools are to what their refunding policies are.

Factors of a reliable china hair straightener factory
Where to find China hair straightener factory:
You can find those factories on international e-commerce exchanges like Alibaba, Amazon, Ebay… Remember to take all the above tips into consideration
4. China hair straightener factory and suppliers – Top 3 best and biggest factories
Here are the list of top 3 rated China hair straightener factory:
4.1. Dongguan KangRoad Electrical Co., LTD
4.2.
Shenzhen Hairstorm Technology Co., Ltd.
4.3. Guangzhou Chengfeng Hairdressing Appliance Co., Ltd.
More: