China Hair Vendors: TOP 3 BIGGEST HAIR VENDORS IN CHINA
China hair vendors have been famous for their products in the B2B world due to the economic potential of hair supplied by them. If you are to start your business in the hair industry, products from China hair vendors will not disappoint you because Chinese hair products have been exported and favored by a number of markets globally.
1. Main characteristics of China hair vendors
All biggest China hair vendors have some features in common: 
1.1. China hair vendors factory – large-scale production
The majority of China hair vendors' factories use high-tech in hair business manufacturing to generate a large number of hair that is always accessible in stock, because they always apply development of technology and produce hair products on a large scale.
1.2. China hair vendors hair source: a mixed source
Chinese hair is frequently blended from a variety of donors, such as Indian hair and Cambodian hair (not from a single 100% pure hair donor), which means the hair quality in each bundle is not equally the same, resulting in a lower price product compared with Vietnamese hair.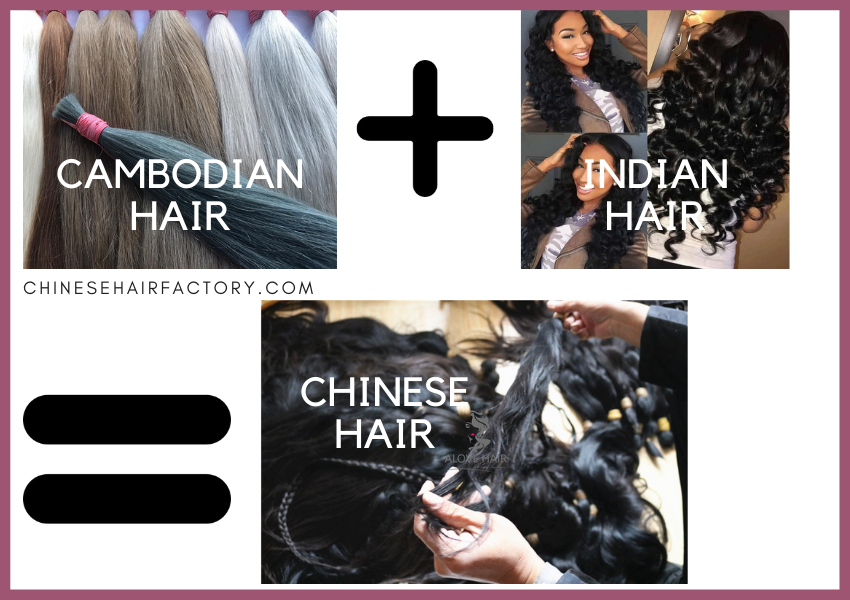 1.3. China hair vendors can supply hair at a low price
As mentioned above, thanks to mass production and low cost of hair source input, hair supplied by china hair vendors are entitled with a really competitive price. However, you have to bear in mind that QUALITY goes hand in hand with PRICE.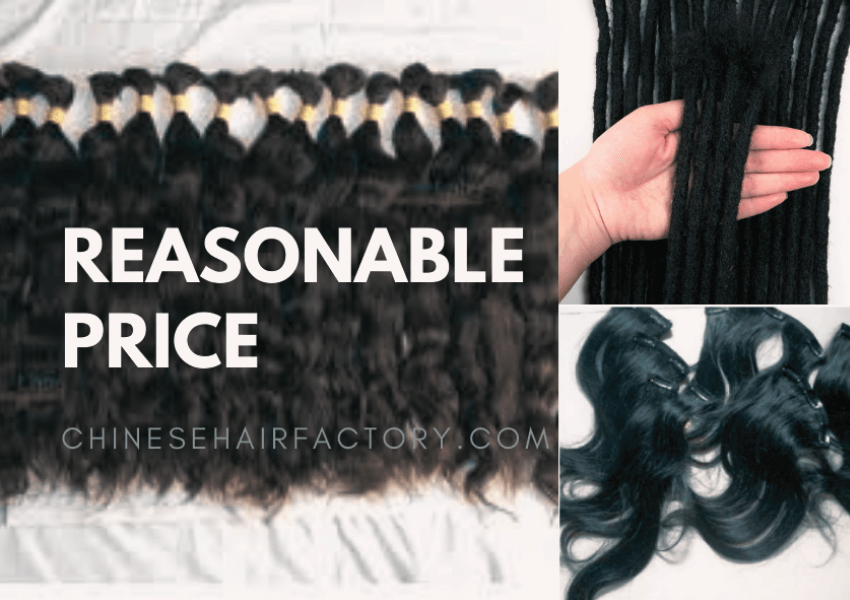 1.4. Biggest competitors of China hair vendors – Vietnam hair vendors
Vietnamese hair vendors are very renowned for producing high-quality hair that lasts a long time. Despite the fact that Vietnamese hair factories do not create hair on a huge scale or in bulk quantities like Chinese hair vendor factories, quality is a major component that makes Vietnam one of China's main rivals.
2. Hair types provided by China hair vendors
China hair vendors usually provide many hair types:
2.1. Chinese virgin hair
Chinese virgin hair is virgin hair that has its origin from Chinese women. Because it is 100% real human hair, it is very strong and has a great level of natural silky. China hair vendors source this type of hair from mountainous villagers who take good care of their hair by using natural preservatives and avoiding processing their hair with chemicals.
However, the quantity of virgin hair supplied by Chinese hair vendors is not so big since the number of virgin hair donors have decreased significantly recently.
Chinese virgin hair, like other virgin hair from other countries, have some unique characteristics in common: 
only one virgin donor,

 and the hair has to be unprocessed by bleaching and dying. 
Though the nature and quality of the chinese virgin hair is perfect for any using purpose, the price of it is not really cheap, approximately 3 times as high as remy hair. 
That is to say that if you are to start a business in the hair industry, virgin hair from a china hair vendor is not the beginning stone for you.
2.2. Chinese remy hair
Not to mention virgin hair, remy hair has the finest quality since its cuticles remain intact, which means the hair never goes through any chemical treatments. However, it bears a little difference with virgin hair, in terms of the number of hair donors. China hair vendors collect remy hair from 2 – 3 donors whose hair share the same quality. Therefore, the price of remy hair is much lower than virgin hair
Because of its exceptional quality and reasonable price, Chinese remy hair extensions supplied by china hair vendor are one the most popular types of real human hair appearing in the hair market
2.3. Chinese non-remy hair
It is the cheapest type of human hair in the market. Chinese non-remy hair tends to be silky and beautiful at first. However, after a short period of time, it soon turns tangled and sheds easily.
 China hair vendors take the source of non remy hair from many donors, they sometimes import this hair type from other countries which sell human hair at a low price such as India, Mexico, Brazil… and process the hair with some chemical preservatives and resell it at a higher price.
But remember that, NON-REMY hair sold by china hair vendors is not suitable for processing heavily like bleaching or dying…
2.4. Table of main features and purposes of 3 hair products from china hair vendors
Hair type
Features
Donors number
Purpose
Price
Virgin hair

Highest quality
Perfect silky and strength, shiny and softness
Non chemical treated
Supplying quantity: not always accessible

Only 1 virgin donor
Any purposes from heavy bleaching, dying to #613 color, processing with heat,  and other uses
>$30/bundle
Remy hair

Medium quality
Hair is silk and soft, no separated strands
Non chemical treated
Supplying quantity: largely available in stock
The length and thickness can be modified

2-3 donors
Multiple purposes: bleaching, dying to over 100 hairstyles and colors

Making weft hair extensions, tip/tape hair…

$8-10/bundle
Non-remy hair
Quality of a normal rate
A number of donors
It is recommended to use directly without treating with chemicals
$4-6/bundle
As shown clearly in the table, selling remy hair give you a higher chance of earning a big sum of money because it is a reasonably priced product with finest quality.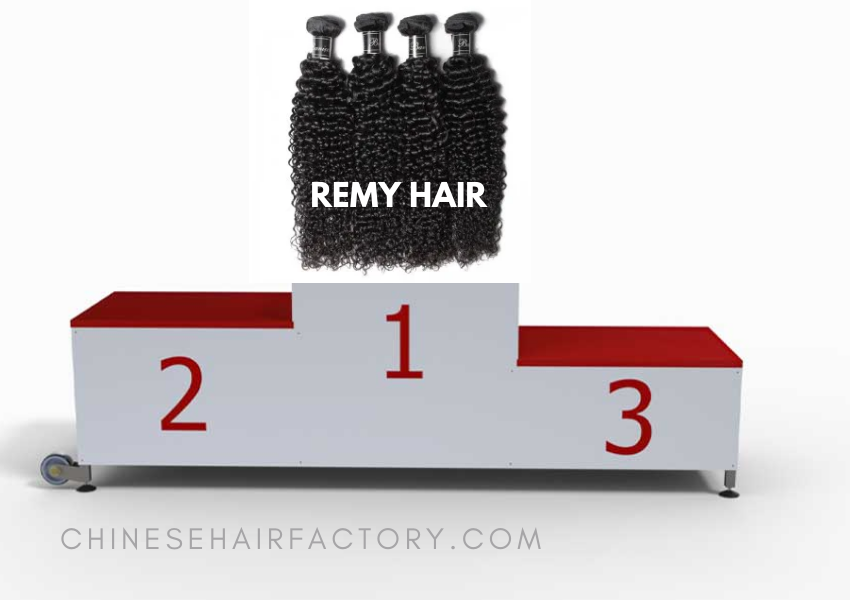 Related:
3. Factors of reliable china hair vendors – Be CAUTIOUS with scammers
3.1. Signs of fraud china hair vendors
Below are signs that hair scammers who try to fraud you have in common:
No website, no social media fanpage, account
If a china hair vendor who seems to be a  ghost company or fraudster does not have an official website or is not active on social media, you should avoid interacting with them.
Because a reputable business would have a significant presence on social media, with numerous testimonials and reviews. They'll be on websites, Facebook, Instagram, Twitter, and other social media platforms.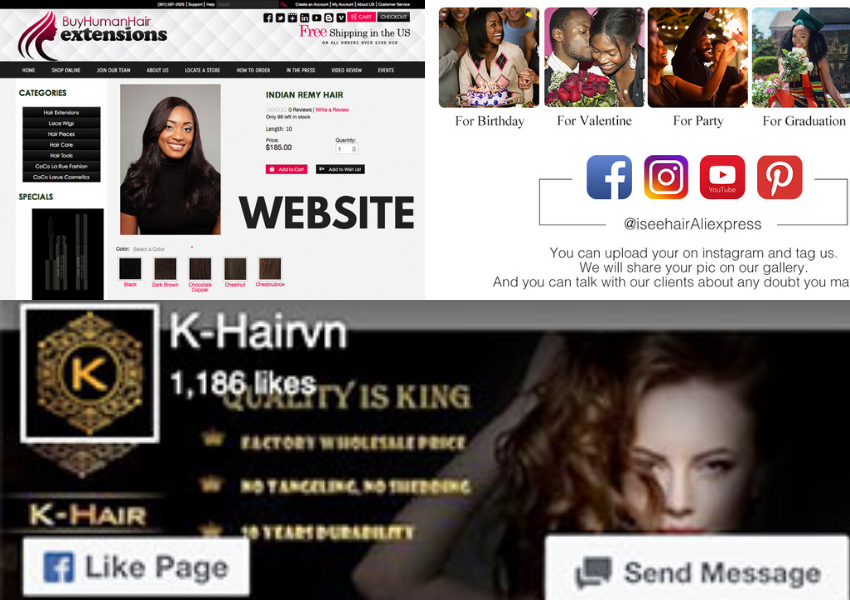 No legitimate certificate or legal company document 
Before doing business with a china hair vendor or factory that does not have a brand name or a recognized company document, THINK AGAIN.
Ask them to show you their Registered Company paperwork. If they can't show you their company certificate or legal documents, and they offer you a lot of excuses, you will know this isn't a trustable hair vendor.
No product videos, images available
If the China hair vendors you are about to trade provides you with photos that you find their source on the internet or they are not willing to show the real products to you, the likelihood that you are dealing with a fraud china hair vendor. Be careful with the quality of the image, you have the right of a customer so DON'T FORGET to ask them to show you the hair products as detailed as possible.
Not willing to video call 
China hair vendors  scammers are afraid of making a video call since they are fraudsters. They don't show you actual hair factories, real employees, or real corporate headquarters.
Lack of knowledge about hair products
Scammers are not professional hair specialists therefore their understanding of the hair industry is limited. When you're chatting with a china hair vendor, inquire about some specific information about the hair industry to see how knowledgeable they are. You can determine the level they are at and whether or not they are trustworthy based on their responses.
Always rush to payment and finalizing the contracts
Scammers are only concerned with money, thus they always pressure customers to pay as quickly as possible. If you see this warning from your china hair vendors factory, be careful.
3.2. Useful tips to find reliable china hair vendors
Because there are a lot of china hair vendors now in the global hair market, the situation of dealing with a fraudster is unavoidable. Here are some factors and some tips for you to realize who is a reliable china hair vendors factory:
Ranking table of these china hair vendors: if the hair supplier you are about to trade appears in the top of a ranking table which is world widely accepted, the high chance is that this factory is trustworthy.

Able to call video: A reliable China hair vendor will be happily willing to contact you on video to show you around their office and factory

Provide real images and lively videos of products: Not only does they video call to you, if they can also show you real images of the products as well as detailed videos to demonstrate the hair quality, you are about to trade with a trustable china hair vendor

Possession of relevant certificates and manufacturing license: Possession of widely recognized certificates like business registration certificate of the Ministry of Industry and Trade also gives more credibility and professionalism to a reliable hair vendor. Moreover, to be legally recognized as a standard vendor, every hair supplier in China must register for a supplying license.

Trustable China hair vendors or suppliers also have comprehensive information on the Internet and social media. If they can provide you with a website which is smartly designed and covers the information you need, along with some media pages such as Facebook or Instagram, you are likely to be trading with a reliable hair supply company. So the advice here is DON'T forget to spend time investigating your hair vendors before making any purchase.

Customers' feedback also counts: Your about-to-trade Chinese hair vendor's permission for you to do research on their previous contracts, whether other customers are satisfied with the hair products they are manufacturing, can raise their reliability.

The most decision-oriented tip: A visit to the office of the china hair vendor if necessary
4. Import hair from china hair vendors – 5 easy steps
Follow 5 steps to import hair from China hair vendors: 
Step 1: Finding a reliable China hair vendor

Step 2: Contacting this China hair vendor/supplier
For example, you can ask if there is a required least amount that must be purchased or discount for buying enormous quantities, or you can inquire about the delivery time length or whether the whole price includes shipping, customs, and taxes.
Remember to obtain a product sample from the producer before making a major purchase. When it comes to China hair, you may order a bundle of whatever kind you desire, whether it's a wavy wig, a curly weft hair extension, remy or virgin hair.
Step 4: Finalize agreement with the hair vendor from China:
Remember to keep a hard copy of everything, particularly the contract between the two parties. The description of the hair products, pricing, installment terms, shipping conditions, and delivery should all be included in this contract.
Step 5: Check the final products
The final stage is to ensure that the items fit your requirements. If they don't, contact the provider right away for the quickest answers.
5. China hair vendors – League of 3 biggest hair vendors in China
5.1. U-Nice
UNice Hair vendor focuses on supplying real hair hair accessories, such as wigs and other hair accessories for African-American women. Despite the fact that UNice was created and is located in mainland China, it has placed a strong focus on using Western social media platforms such as YouTube to attract potential customers.
This China hair vendor offers wigs on online marketplaces such as Amazon, AliExpress, eBay, and others. UNice Hair products are sold in 150 countries, including the United States, Canada, the United Kingdom, France, and Germany.
Main products: hair weave, closure and frontal, hair lace…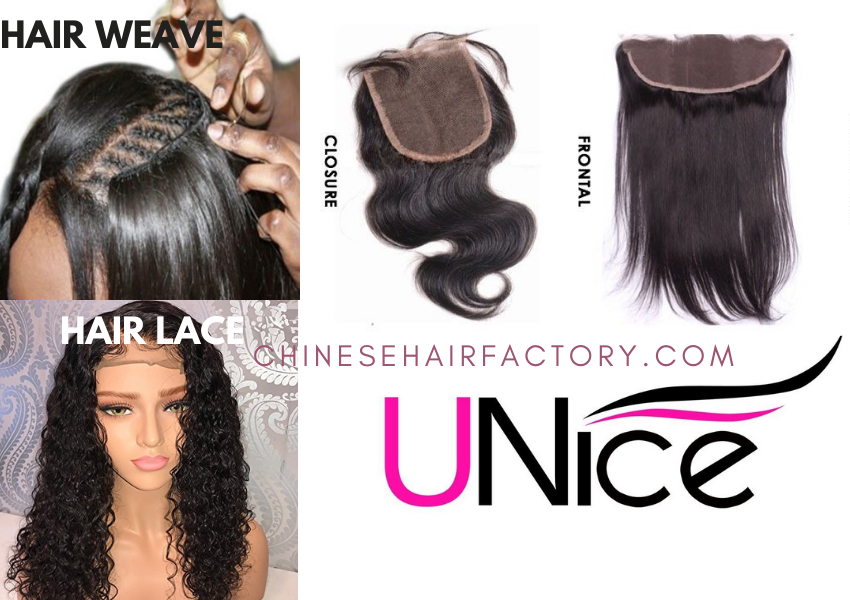 5.2. ISEE
Company story: ISEEHAIR specializes in high quality 100% human hair, we've been in the hair business for over 20 years, we have our own factory, which provides flexibility for hair produce and best price for wholesale. Located in China, but we ship worldwide, providing high quality hair at affordable prices, with strong supply ability and sufficient stock, gradually becoming a global human hair enterprise in the world.
ISEE china hair vendor enjoys good reviews from famous beauty bloggers, celebrities and customers.
Main products: 10A grade human virgin hair, 9A grade human virgin hair,…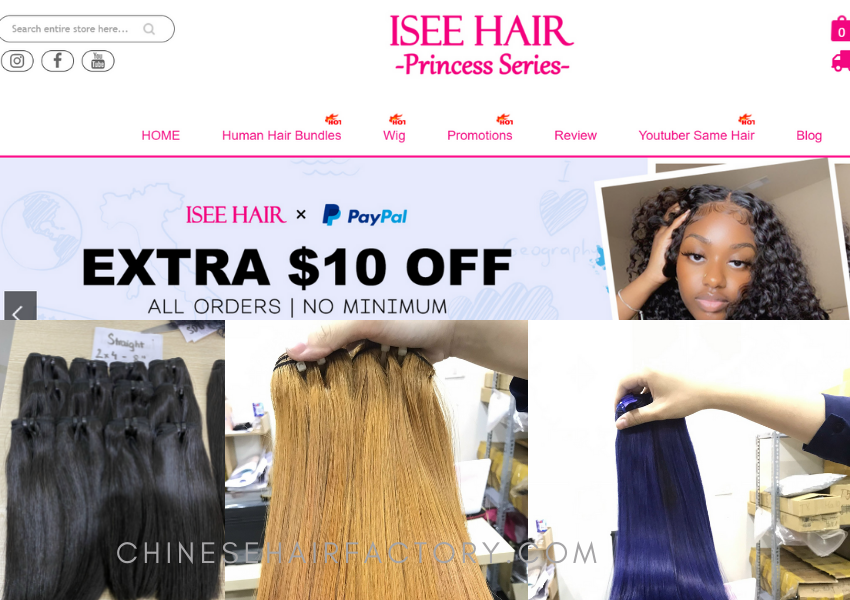 5.3. TED Hair
TedHair is the premium hair manufacturer in China, providing top-quality hair products and services to distributors, vendors, salon and online store owners around the world